Caught in a Trapcode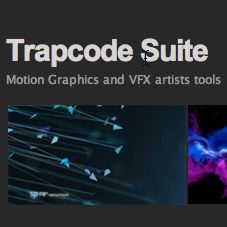 We've been working hard on concepts for the graphics treatment in Dying to do Letterman.
There's a magic set of plugins we wished for, to create cloud effects, glows, and other graphic goodness, famously known as the Trapcode Suite.
Well, today, Red Giant Software generously donated a copy the entire Trapcode Suite to Dying to do Letterman!
We've already starting working with this great set of plugins, and can tell you…they're as awesome as everyone says.
Giant Gratitude
To have a large, well respected company like Red Giant reach out with support means a great deal to all of us here at D2DL headquarters.
If you use After FX and you don't know about Trapcode's Plugins, check out what they can do here. If you have a budget and can afford them, please help us show Trapcode and Red Giant some appreciation by purchasing some yourself.
Trapcode Suite in Action
Here's a piece showcasing the Trapcode Suite we especially love, by Pierre Michel:
Thanks Red Giant and Trapcode!
Thanks to Trapcode and the Red Giant Software team for supporting our movie and Steve's dream.