Still Riding a Cinequest High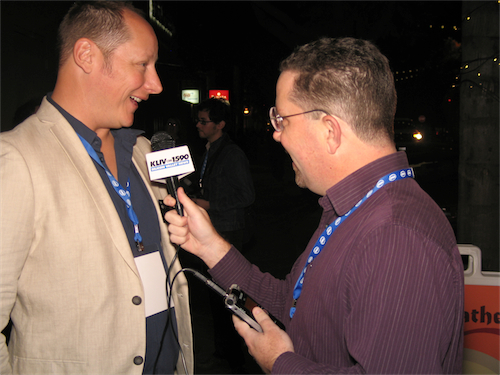 Wow!
That's about all I can say after attending the Cinequest Film Festival 2011 announcement ceremony last night.
After six years working on the project, I don't have words to describe how it felt to have our documentary announced along with films by John Turtorro, and starring Uma Thurman and Dennis Quaid. Some pretty good company in San Jose, in early March.
Cinequest even put a special spotlight on our documentary and allowed me to take the stage and say a few words about "Dying To Do Letterman." We will have some video of that soon. We also shared our Top 10 Reasons to Attend Cinequest video that got some really big laughs (if ya haven't seen it take a peek here).
I did so many interviews with newspaper, radio, and television people that my voice was practically gone two hours later when we left the party to get some grub. You can hear my voice going, and my excitement here when we left Joke and Biagio a voicemail upon leaving. They were busy in L.A. and couldn't make it, but were definitely there in spirit because none of it would have been possible without them making such a great film.
The "we" I'm talking about above are Nate, Gary and Dan. Can't believe I'm just mentioning those guys–couldn't have made it through the night without them. Nate our Assistant Editor came along and did some fantastic interviews of his own. Gary Cannon, my best buddy and co-star in the movie, came along for support, but we put him to work too. And finally Dan Orloff our PR guy from Orloff-Williams who orchestrated the whole night on our end—it was a big success and he's the reason why.
There'll be lots of pictures and videos, and more stories of the night, coming soon. But the best part is that this is all just a warm-up for when we take over San Jose on March 4th!!!!
S