Laughing For a Cure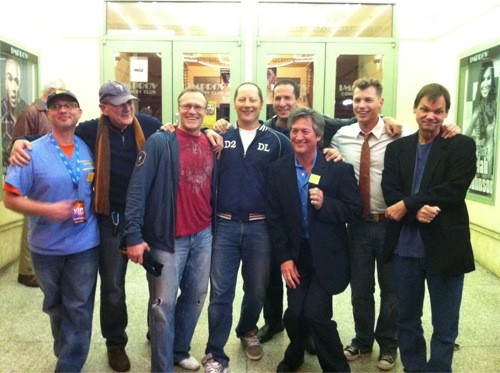 The comedians (and one actor) of the Live Your Dream comedy benefit show.
When we first talked about making Dying to do Letterman, one of the things Steve really wanted to do was find a way to "give back" with the movie, and last night at the Cinequest Film Festival we took our first step toward that goal with the "Live Your Dream" comedy benefit show. The goal was to raise money for the Canary Foundation, an outfit dedicated to early detection of cancer.
Bay area comedy legend Mark Pitta hosted the evening, and did an amazing job of making sure the funny flowed.
Comedians Lee Levine, Norm Goldblatt, Jeff Applebaum, Eric Toms, and Larry "Bubbles" Brown (who appears in Dying to do Letterman) performed, along with our own Steve Mazan.
Actor Michael Rooker got up on stage with Steve to do a little bit of comedy mixed with a lot of heart to open the show, along the lines of our PSA (below.) While Rooker is a tough guy, he's also got a lot of heart, and as he talked about, lost his mom to cervical cancer, so the night (and movie) are both close to his heart.
All of the comedians appeared for free, and wild-man Eric Toms even drove up from Los Angeles, only to do his set and immediately drive back.
Special thanks to Dan Orloff of Orloff/Williams who put the night together, and helped us raise several thousand dollars for Cancer Research.
We look forward to putting together fund-raising shows all over the country as we continue on our Dying to do Letterman adventure.