Here's Johnnnnny….and Dying to do Letterman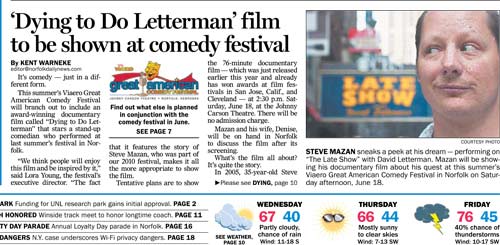 So, last year at this time I (Steve) was invited to a little town called Norfolk in Nebraska. You may not have heard of it, but you have heard of one of it's past residents. Johnny Carson. The king of late night and the precursor to my man David Letterman. In Johnny's honor Norfolk is now home to The Great American Comedy Festival. I performed there last year with some of the best comedians in the country. The venue where all the comedy shows are held is the beautiful Johnny Carson Theatre.
Well, June 18th we will be screening "Dying to Do Letterman" at that same theatre. What an honor for it to be shown there…I hope we do David Letterman proud. We are actually the first film ever to be shown as part of the festival! Denise and I will be on hand to present the film and do a Q&A afterwards. We both can't wait. They've already put us in the paper.
Nebraska is in the North, but they really have a lot of Southern Hospitality there. Many of the town's residents actually host comedians for the weekend, rather than leaving them to hang out alone in a dreary hotel like they do every other week of the year. My hosts last year, Lauren Tiegen and her mom, were so nice. I even got to tour the local steel mill. I felt like the girl in Flashdance. What a feeling.
If you're a Husker, or know someone who is, send 'em on a road trip to Norfolk on Saturday June 18th!