Meet the Filmmakers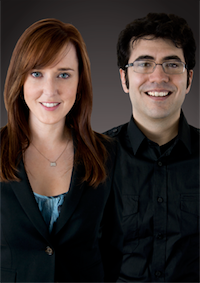 Joke Fincioen and Biagio Messina
Producers, Directors, Editors Dying to do Letterman
Joke and Biagio are married, and best known for creating and executive producing"Scream Queens" on VH1 and Co-Executive Producing "Beauty and the Geek" on The CW. Their recent TV shows include MTV's "Caged" and IFC's "Commercial Kings" with YouTube sensations Rhett and Link. The duo earned their documentary wings under acclaimed filmmaker R.J. Cutler (The War Room, The September Issue) when they produced the feature-length doc, "Oh Baby, Now What" for A&E. Biagio also delivered pizzas for Pizza Hut while playing "Marc Cram" on Nickelodeon's Kenan and Kel, and Joke learned the Hollywood ropes while working as an assistant for producers like Gale Anne Hurd (Terminator, Armageddon, The Walking Dead.) Together they own and run Joke Productions, Inc.
Joke and Biagio first met Steve while trying to launch their production company out of their shoebox, one bedroom apartment in Hollywood. For extra money, they would edit together "just about anything!" Steve needed a new tape of his comedy to send to clubs, and together the group edited it on a blue-and-white Mac G3 set up on an aging Ikea kitchen table. A few years later, Steve learned he had cancer, decided to chase his dream of performing stand-up comedy on Letterman's show, and asked Joke and Biagio to document his journey. At the time, they owned two mini-DV cameras, so they gave one to Steve and said, "Shoot everything!" Joke and Biagio would also personally film Steve's journey every chance they had.
Learn more at their blog and be sure to follow them on twitter @jokeandbiagio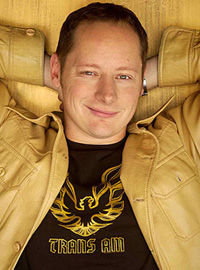 Steve Mazan
Heart and Soul of Dying to do Letterman
He didn't just star in this documentary, he helped make it, too. Aside from facing cancer, and risking his life to chase a dream, Steve also bravely learned to use Joke and Biagio's Canon GL2 with a $15 microphone from Radio Shack, and took it with him everywhere he went. Nothing was off limits, and Steve poured everything into the nearly five-year shooting process. Over the course of his journey, he wrote letters to many in the comedy community, and managed to schedule sit-down interviews (and advice sessions) with comedy names like Ray Romano, Kevin Nealon, Jim Gaffigan, and Brian Regan (who has 17 Letterman performances under his belt).
Steve performs stand-up comedy from coast-to-coast, and he'll be coming to a city near you soon. Check out his official site at http://www.SteveMazan.com, and follow him on twitter @Steve_Mazan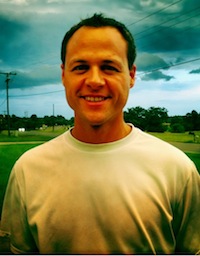 Peter Spoerri
Line Producer, Dying to do Letterman
This rare photo of Peter Spoerri was caught in the wild as he was busy stretching every dollar to the max on a recent shoot. Peter is known to be one of those rare money guys who manages to say "yes" to the crazy creative whims of his producers, yet still find a way to come in on time and on budget. Some of his recent shows include HBOs Russell Simmons Presents Brave New Voices, ESPN's Bound for Glory, and two seasons of VH1s Scream Queens.
Peter met Joke and Biagio while they were all working with acclaimed documentary R.J. Cutler. Since then, they've joined forces on numerous projects, and Peter is now head-of-production for Joke Productions, Inc.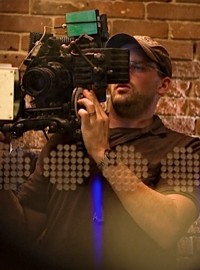 Adam Sampson
Cinematographer
All the filmmakers on this project freely admit the best-looking footage was shot by Adam! He won his first regional Emmy at the tender age of 16 (do you believe this guy?) for the PBS documentary series "Spirit of Colorado." Adam would donate his time between gigs to shoot on the doc, and he was there when the infamous "Letterman Letter" arrived. He also lit and shot the "one man show" portion of the documentary, giving the illusion that Steve was delivering his narration in a comedy club. Learn more about this talented man athttp://adamsampson.com and on twitter at @Red_Moose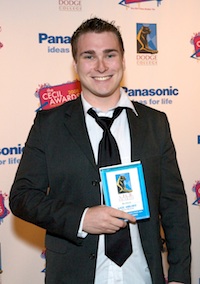 Nate Orloff
Lead Assistant Editor
A close second to Biagio for "least sleep during post production" on Dying to do Letterman, Nate is the resident genius at Joke Productions, Inc. From handling equipment disasters, to managing the 300+ hours of footage, to doing initial string-outs and rough edits of many of the scenes in the movie, to answering late-night phone calls from Joke and Biagio while they were editing, Nate is kind of like "Superman." More about Nate athttp://www.nateorloff.com/about/ and on twitter @NateOrloff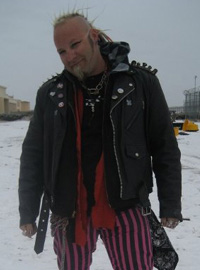 Elvis Strange
Production Designer
What's that you say? A production designer for a documentary? Well, not the whole thing! Elvis designed and built the "mock comedy club" used for Steve's narration in Dying to do Letterman. You can tell from the picture, he's quite a guy! Elvis has created and put together amazing sets in film, TV, commercials, and music videos for the likes of Burger King, Harley Davidson, Britney Spears, Alice in Chains, and Joke and Biagio's "Scream Queens." Learn more at: www.teamstrangerocks.com. He refuses to join twitter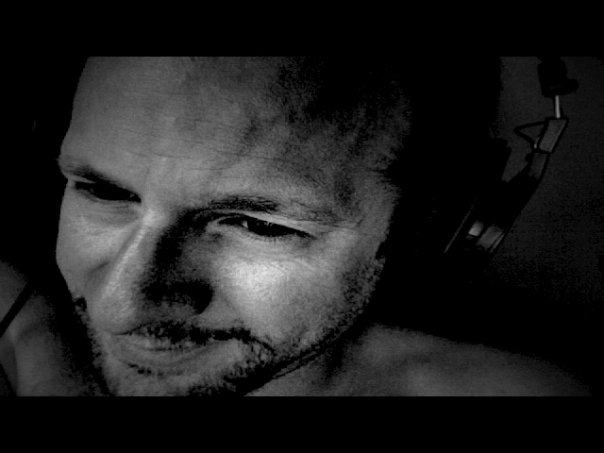 Dave Pelman
Composer
Dave's one of the nicest, most talented musicians you'll ever meet. He met Joke and Biagio when they worked together on VH1′s Scream Queens, and the three have been collaborating on projects ever since. Dave's skills have been tapped by everybody from Stevie Wonder and Dweezil Zappa to Lionsgate. On Dying to do Letterman, Dave routinely took creative calls from Joke and Biagio and then amazed them with terrific cues "almost instantly." His musical influences include Jean-Michel Jarre, Miles Davis, Vangelis, Moby, Cocteau Twins, Claude Debussy, Tangerine Dream, Morphine and Massive Attack. You can learn more at Dave's site and on twitter at @davepelman